This sector is really competitive and there are many manufacturers, so only the ones capable of providing specific answers to their clients will survive. Our course "Industrial coating technology for sales people and product suppliers" will give you the opportunity to approach the other side of the business, the client's point of view.
At Optimiza we work with a huge number of clients in very different situations, both in terms of product and location. We know their needs in depth and that is why we can provide coating suppliers with a clear information on where the sector is heading, and which opportunities will be found by those who best adapt to the requirements of the new times.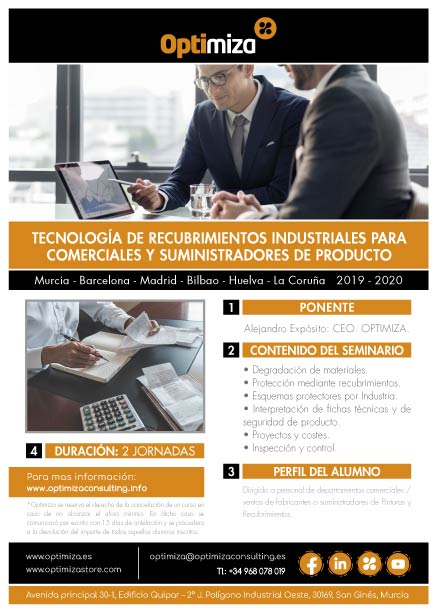 Our course will give you fundamental information for your company and will help you better understand the strengths and weaknesses of your own products, as well as assess the need to incorporate new references into the catalogue.
Besides, you will get a complete overview of the process that ultimately leads a company to use a particular coating. You will know how and why a specific product is chosen and not another.
You will better understand the processes of the industry when it comes to maintenance programmes. You will discover a different perspective by knowing in depth how your clients program maintenance of their facilities because you will be able to anticipate their needs and deadlines.
We will bring you closer to the reality of maintenance costs from the other side, the client side, and we will teach you everything you need to know about quality requirements of the different types of coatings.
With the "Industrial coating technology for sales people and product suppliers" course you can anticipate the future of your sector. Because the future is already present in many cases.